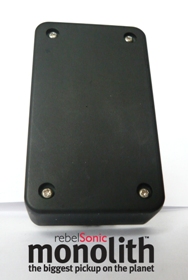 Musical equipment upstart, rebelSonic of Toronto, announced that they will be unveiling the Monolith™, "the biggest pickup on the planet" at the Winter NAMM 09 at the Eastwood® Guitar booth #1331 Hall E at show in Anaheim, CA.

The Monolith™ is not just the biggest pickup on the planet; it's a completely new concept in pickup sound and design. The Monolith is actually three totally different sounds, not available in any other pickup, all packed into one seriously oversized shell. The three Monolith sounds are: JackHAMMER - a Humbucker with major league attitude, cementMIXER - a deep, dirty sludge tone great for that Clapton woman tone, and icePICK - a P90 on steroids that cuts through the thickest mix. The result is one guitar that takes the place of three guitars - that's revolutionary sonic engineering.
"I've been dreaming of this for years" said an excited Joey Leone, "Three killer voices in one pickup, and all in a player's favorite position, right at the sweet spot of the bridge. It is like having three totally different sounding guitars all in one".

Leone brought the concept to long time guitar pal Mike Robinson of Eastwood Guitars and along with marketing guy, Grant Ivens of Say What! Communications, they have turned that idea into an exciting new company called rebelSonic.

The Monolith™ will be introduced at NAMM on the slick new Eastwood Monolith guitar. Shipping of the full line of Monolith™ pick-ups will be in spring '09 and will include variations of the Monolith in standard sizes for all guitars and pre-wired full assemblies. Hear the difference of the Monolith™ at www.rebelSonic.com

"Our plans for rebelSonic is to push the limits of tone, from pickups, to pre-wired control assemblies, to effects and more " said Ivens, "the Monolith is just the beginning".