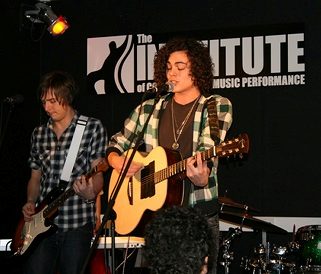 The newest darlings to Geffen Records and the Xenomania production house, Vagabond, recently took time out from their busy touring schedule to deliver an exclusive performance and Q&A session at the Institute of Contemporary Music Performance (ICMP) in London.
Mixing powerful pop melodies with soulful rock, Vagabond deliver a refreshing sound that makes obvious the reason for the buzz around Xenomania.  Poised for major success in 2009 with a single and album release set for May, as well as supporting James Morrison on tour, Vagabond makes music that gives you no choice but to get up and move.
ICMP students were given a high-energy performance of three songs that set an exciting and inspiring tone to the masterclass.  This was followed by lead singer, Alex Vargas, leading the band in giving a background of how they were formed, what they do and how they do it, from writing to recording to performing.  The students didn't hesitate in asking questions about band dynamics, members' influences and what it is like working with Brian Higgins and Xenomania, which Vagabond were all too happy to answer honestly and eloquently.  And ten lucky students were given free tickets to Vagabond's gig at Water Rats in London later on that evening.
Vagabond is now offering ICMP students the chance to submit their original tracks, choosing a winning song themselves that the band will remix at the legendary Xenomania Studios.  The track will then be posted on Vagabond's MySpace page and the winner will be offered a chance to support the band at their next London gig.  (www.myspace.com/vagabond)