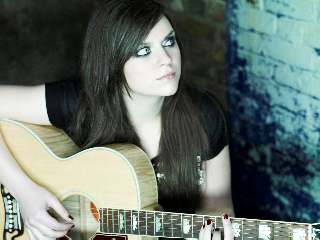 Following on from last year's success, Shure and the ICMP are delighted to announce the launch of the 2009 Shure Creative Award. Previously supported by K.T. Tunstall, the competition will this year be judged by sensational singer/songwriter Amy Macdonald. A rapidly rising star, Amy's critically acclaimed self-penned debut album, 'This Is The Life', went to number one knocking Radiohead off the top spot and has now sold over 2 million copies worldwide leading to many nominations for music awards. She continues to play sold out headline shows and festivals such as Glastonbury, Hyde Park, T in the Park and V Festival and having been discovered, produced and managed by production company Melodramatic Records who continue to work with her, she is signed to record company Vertigo.

If you are a singer/songwriter looking to emulate Amy and make a career out of your talent, why not take part in this year's competition? First prize is a once-in-a-lifetime opportunity to attend, free of charge, the fantastic one-year Professional Diploma in Songwriting course at the ICMP, Europe's leading school of modern music, worth over £5,000!

Being at the ICMP, you will be able to take part in regular live showcase events, professionally develop your talent and have direct access to leading industry insiders. The winner of last year's award, Kimya Razavi, has already played and performed at a range of London venues including the prestigious King's Place, and is currently preparing material for a live A&R showcase with Island Records.

All you have to do is upload an original song to the award website, www.shurecreativeaward.com, before April 17th 2009. A combination of an expert panel of judges plus public voting will select a top 10 and then Amy will be making her selection for this year's winner! Commenting on the award, Amy said:

I'm really pleased to be working with the ICMP by judging entries to the Shure Creative award.  I think it's great that this competition exists to encourage and support the talent of developing singer/songwriters and I'm looking forward to hearing the entries over the coming months!