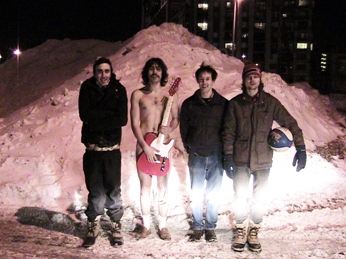 Eastwood Guitars and rebelSonic are testing out the "biggest pickup on the planet", the three voice Monolith™ from rebelSonic, on one of the craziest indie road trips ever. Montreal's gonzo rockers Hollerado, the winner of Eastwood's Big Pick summer '08, are taking the Monolith guitar with them as they do 28 shows in 28 days in 7 different North American cities and log 6,870 miles (11,056.56 km) on their non-stop Residency Tour!
This epic tour will climax with Hollerado giving away the road-proven Eastwood Monolith guitar during their live webcast concert from Canada's hottest new performance venue, The Rose Theatre, in Brampton, Ontario just west of Toronto. Enter for a chance to win Hollerado's Monolith guitar at www.rebelSonic.com and watch the broadcast at 8:00 pm Monday March 9, on www.webcasts.myrosetheatre.ca

 "I can't think of a more grueling test for our Monolith™ pickup than 28 days of gigs, bouncing in the back of a van for 7,000 miles in sub-zero winter conditions at the hands of four crazy canucks, that is rebelSonic to the max!" stated Grant Ivens, of rebelSonic's. "When it comes to DIY, these guys are the real deal and we are excited to be a part of the Hollerado Residency Tour" stated Mike Robinson of Eastwood Guitars.