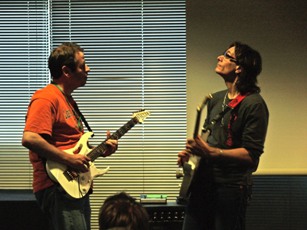 Master Guitar Virtuoso, Steve Vai, bought his Alien Guitar Secrets master class to the 2009 London International Music Show at ExCeL exhibition centre, London Docklands today 13th June and will play a second sold out master class tomorrow. This was Vai's only UK appearance this year and culminated in a special performance guesting with the Phil Hilborne band featuring Nicko McBrain on drums.

The series of two sold out master classes was a unique and once in a lifetime opportunity for the select few people to hear Steve discuss guitar techniques, the music business and a few attendees were able to jam with Steve in this intimate environment.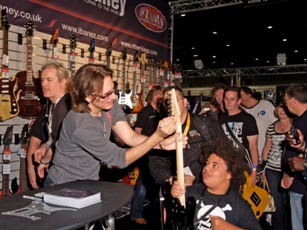 The day also saw a host of stars play the show's main stage including Grammy award winning country picking guitarist, Albert Lee, the critically acclaimed band, Swans in Flight featuring bass players Marco Mendoza and TM Stevens and killer guitarist Jan Akkermann.

Throughout the day there were a host of signings from special guests including Black Stone Cherry, Doug Wimbish and Steve Diggle from the Buzzcocks.